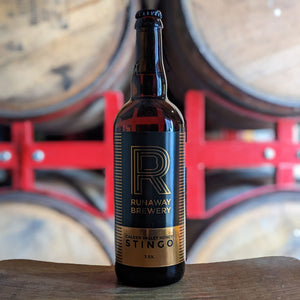 Calder Valley Honey Stingo
A wine barrel aged version of our award winning Bier de Miel (honey saison) brewed with our friends from Brew Wild. This beer has spent much of 2022 sitting in our favourite wine barrels fermenting and developing further into a fabulous take on this classic Yorkshire style - which is apt, as the delicious raw honey used to brew it came from hives in the Calder Valley, around Halifax and Hebden Bridge, just 25 miles west of the brewery.

Stingo, a traditional barrel aged style often associated with sweet Barley Wine or Old Ale, has been reworked to appeal to more adventurous palate, taking inspiration from the barrel aged, blended beers associated with Belgian brewing traditions. It's an incredibly complex beer with heady floral notes from the honey used to brew it, along side hints of citrus, spice, wood and a hint of brettanomyces funk.

Very limited edition & therefore not on general sale

alc. 7.5% by vol.
750 ml
Allergens: gluten from barley and wheat
Bottle conditioned